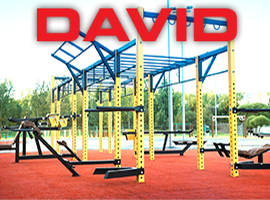 The purpose of making David City-Line was to develop and design a totally new type of outdoor training equipment line in cooperation with the City of Helsinki and David Sports Ltd. All City-Line products suit into urban environment.
Project goals:
Durable and mechanically solid line of equipment   for all-weather   conditions even without sheltering
Suitability to a wide variety of users
Rugged frame construction with minimal maintenance requirements
EN16630:2015 Standard compliance
Adjustable and easy to use large scale loading system
Biomechanically sound device construction to produce optimal    training response for every user
Uncompromised safety standards for all users and applications
According to survey, It came out that in time period 15.04-31.08.2016 in City of Helsinki (Pirkkola Sports park) approximately 24 281 people visited the area with David City-Line products. It is in average 175 visits per day (optical sensors were used to count visits).
City-Line helps to reduce administrative charges e.g. ventilation and all your training exercises can be done on City-Line products. It is great offer for schools and cities, who do not want to spend thousand of euros per month on administrative charges. According to feedback from people, they admit that administrative charges to maintain gym are insanely high.
The loading mechanism is unique, as you can set your weight just by pulling and releasing the lever. Now It is even easier than in gym, takes less time to set your training weight and there is no way you can hurt yourself or someone else. In addition the loading mechanism is maintenance free.