SAFE AND EFFECTIVE WORKOUT
Unique Machine
The Wrist Equipment® is a unique training equipment, originally designed and custom made for specific professional training purposes and forehand for the rehabilitation by recommendation of therapists. Wrist Equipment is a free-weight workout appliance using work principle gripping handbar and spinning weights which are fixed to the stabile frame. The aim of making Wrist Equipment was to find an effective but simple, flexible and reliable replacement to barbell training. Main goal was to find a unit that is suitable for safe workout of the forearm, grip and wrist.
As similar workout using single weight bar or portable spinning bar can be dangerous and risk of occurring injury is remarkable, Wrist Equipment is solving all these issues being stabile, safe and smooth training machine. Among the classical and common training equipment this is an exclusive product that no other machine is capable of replacing.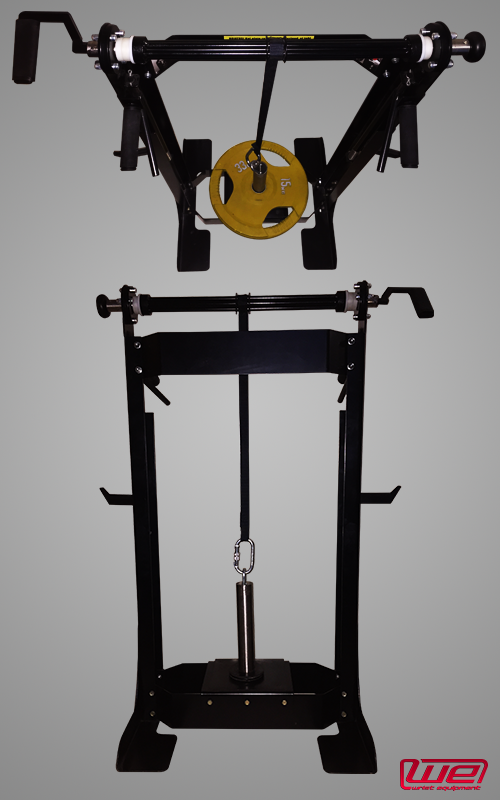 From Sports to Muscle Recovery
Wrist Equipment – free weight and multifunctional training equipment. Because of its ability to be used for different workout exercises and possibility to easily add and take away weights it fits for the desires of all types of athletes – both professional, advanced and dedicated beginner. Training with Wrist Equipment is simple, attractive and beyond effective.
This innovative product has been tested and daily used by sport equipment designers and dedicated top and in Finland and olympic athletes in Estonia for over a year. Before commercial release Wrist Equipment was used and recommended by several top athletes
In several sports it is important to have strong grip strength and forearm endurance. Likewise, forearm and grip strength are needed in the wrist for football, basketball and other ball games, rowing, wrestling, judo, skiing, hockey, motocross, auto rally, tennis and golf.
Furthermore, the ergotherapists have found that Wrist Equipment is ideal equipment for forehand and wrist injury rehabilitation. Same workout exercises with less weight make Wrist Equipment to be the perfect machine for forehand injury recovery. Wrist Equipment was tested and is recommended by Dr. Ruth Aukia-Liechti (dipl. Ergotherapist) in Handrehabilitation clinic in Zürich.
Wrist Equipment is essential for all those athletes and patients where hand strength or muscle rehabilitation is important, whether to increase performance in sports, or to gain back muscle loss
Suitable for professional athletes & enthusiasts
Martin Padar
2009 European champion in heavyweight Judo
Heiki Nabi
2006 Wold Wrestling Championships 1st place
Summer  Olympics 2012 2nd place
Wrist Equipment in depth
Innovative design, high-end quality and perfectly finished details
Due to Wrist Equipment's innovative design, quality and finished details you can always be sure that you will have the professional grade product.
Control and safety – training exercises are performed with controlled and smooth weight movement. Weight is always fixed to the slider and stabile track frame. The durable springs and rubber base will absorb the weight hit in the case of the accidental dropdown. Wrist Equipment design promotes safety training and injury prevention, so it is suitable for rehabilitation purposes, valuable means of treating and working around injuries.
With the stainless steel handbar and high quality frame you can be sure that this product has a long lifespan.
Easily change weights from base resistance 0 kg up to 120 kg
All moving parts are engineered aiming reliability and endurance in constant professional usage and minimal need for maintenance. Suitable for any user's fitness level, rehabilitation or disability. For comfort and for a secure grip, optional non-slip grip wrap is used. The grip material has a tacky surface with a cushioned feel and perforations to eliminate moisture. Grip cover texture prevents the handle bar slipping.
Removing grip covers will leave the handle bar with its structural stainless steel surface. This would be useful for the very aggressive heavyweight enthusiast who, would then need to use workout gloves for a secure grip. Wrist Equipment trainers are precision-made professional grade products. All details and parts are produced and mounted in EU. Standard frame colors include white and silver-grey but optional custom painting is available.
Originally designed and custom made for professional training
Wrist equipment is portable device – it needs approximately one square meter footprint in gym and as lightweight it can be easily relocated. Thanks to its innovative design Wrist Equipment has achieved ultimate stability and there is no need to fix unit to floor or wall with bolts. Wrist Equipment can be dismounted and assembled for transport in just few moments using simple tools.
Effective and safe alternative to barbell exercises
Muscle Influence
By choosing the right weight and workout routine trainee can effectively increase muscular mass and strength or if desired, sculpt, tone, and make forearms more slender.  Wrist Equipment is suitable workout tool for women with base resistance beginning at 0 kg.
Using the Wrist Equipment will build endurance and will increase grip, forearm, wrist, and shoulder strength.
Engage a variety of workout routines to target the needed
Product specs
Dimensions (mm LxWxH): 600x780x1200
Weight: 32 kg
For promotions, news and training advices please find us in Facebook
International sales:
gunnar@wristequipment.com
The innovative design of this Wrist Equipment has been registered and protected as a Community Design and Utility Model.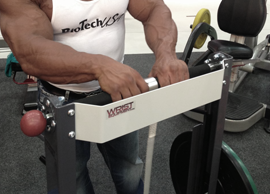 Wristequipment
Multifunctional training equipment. Highly recommended by top athletes. LxWxH 600x780x1200(mm), 32kg (lbs 70.5)
More Info