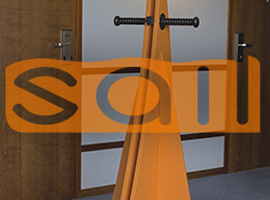 Sail was born thanks to Urve Küttner, who came to idea to create functional artwork, in which are creativity, natural material and healthy well-being connected. Sail is "two in one" product – design element in your interior and also health device, which can be proudly presented in your office or home.
Why Sail is unique in current modern society? We are used to admire artist creativity in exhibitions and mostly those artworks lack of practical usage. Ever more artist focus on creating practical artworks nowadays. Sail is an artwork that helps to avoid different diseases that are caused by sitting infront of computer. Most common is mouse diseas, but also heart and back diseases.
Proper workout position was evolved by Swiss rehabilitation therapist Ruth Aukia-Liechti and exercises are created by sport masseuse and judoka Martin Padar.
Our first Sail device is presented in Sokos Hotel Viru.